Refugee Sponsorship
fuc_admin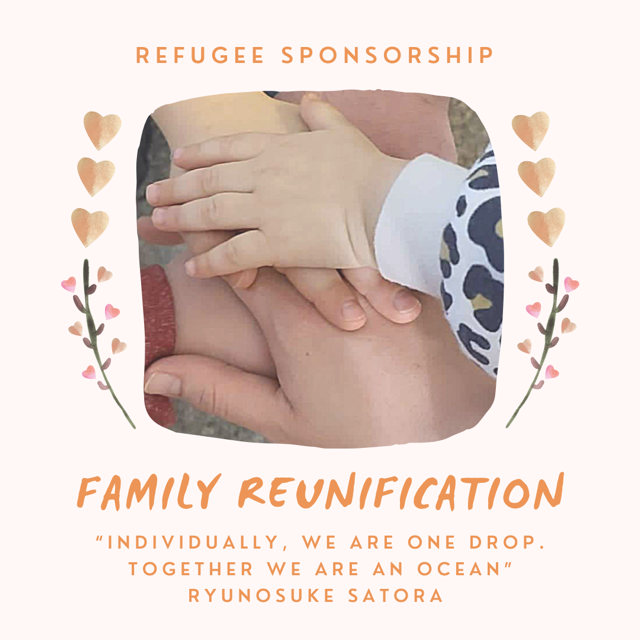 $89,976 raised of $95,000
"I can do things you cannot do, you can do things I cannot; together we can do great things." Mother Teresa
Fall Greetings from the members of the First United Church Refugee Sponsorship Working Group (RSWG)!! Our committee members include Rev. Annette Taylor, Janet Keene, Linda Stumpf, Heba Etmeh, Faris Sadden, Maxine Olmsted, Anika Henderson, Marie Andrews, Catherine Christie and myself, Amy Popick.
We would like to offer a few updates:
< Just last fall, our working group set out to raise $40,000 to sponsor family members of our dear friends and former sponsor family, the Etmehs. As of Oct 15th, 2021 WE REACHED THAT GOAL!! God is good!!

< Refugee Sponsorship can unfold in ways that cannot always be predicted. Needs can arise that were not expected. Such is the case as we forge ahead to pursue sponsorship. Due to COVID-19 related time delays which affected family configurations and led to government requirements for more money , we now require additional funds well beyond our original goal of $40,000. In particular, the family members we are sponsoring now have aging parents that need to be prioritized. In addition, one family member has married and become a parent since we began this project. In order to pursue sponsorship of what is now three (or possibly four) separate families, we will need, at minimum, approximately $55,000 more. We have a goal of exceeding the minimum requirements set by the federal government. We know there will be health expenses over and above the minimum requirements as those we are sponsoring have had a lack of access to dental and hearing aid services, to name only a couple of the variables at play.
We are hard at work organizing different opportunities to raise these additional funds. Here are a few of the ways we are doing this:
1. Market Square Days July & August raised over $2400!! Many thanks to all who donated baking!!
2. Pizza Hut agreed to offer their support by donating $5.00 for every First United Church Pizza Hut coupon that is redeemed. ($29.95 offer of 2 pizzas, breadsticks and Cinna parts) These coupons have been circulated throughout Swift Current!
3. We are actively communicating with various groups locally and throughout the Living Skies Regional Council to pursue potential financial supports.
4. We are planning a Fall Fundraiser ( POSTPONED DUE TO COVID -19 ) that will include a roast beef supper along with music, guest speakers and live and silent auction items. The event date will be determined at a later date , sometime in 2022 and will be held at East Side Church of God. Ticket prices will be $50 each. Local businesses and citizens have generously sponsored this event and there will be a truly incredible array of packages to bid on! Thank you for your patience as we wait for a safer time to offer this fun and exciting event.
Thank you to the incredible congregation at First United Church as well as our greater community within Swift Current and surrounding areas for your continued support and generosity that is making it possible for this Refugee Sponsorship dream to become a reality!!
I ask you to prayerfully consider what support you are able to pledge financially , as we forge ahead with this Refugee Sponsorship initiative during these COVID -19 times. Together, we will make this dream a reality and change the lives of a family that desperately needs our help.
"The things you do for yourself are gone when you are gone, but the things you do for others remain as your legacy." – Kalu Ndukwe Kalu
With thanks,
Amy Popick, Chair
First United Church
Refugee Sponsorship Working Group
We have multiple ways for folks to add their support through donations; please note all donations are tax deductible.
Electronic Funds Transfer – simply direct your etransfer to give.firstunited@sasktel.net and add Refugee Sponsorship in the memo section.
By cheque, made out to First United Church, Refugee Sponsorship in the memo section. Mailing address: 223 3rd Ave NE, Swift Current, SK, S9H 2G8
Our Chuffed fundraising page: https://chuffed.org/project/refugee-sponsorship-and-family-reunification
Automatic Bank Transfer – Preauthorized Remittance or PAR is a direct debit program that allows you to support sponsorship through an automatic monthly withdrawal from your bank account for the duration of our fundraising
period.

Members of our new Refugee Sponsorship Working Group tell us why they want to help bring this family together: