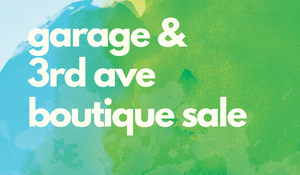 Garage & 3rd Ave Boutique Sales

Please join us for our regular Garage and 3rd Ave Boutique sales every Wednesday starting September 13th from 11:30 a.m.- 4:30 p.m. 

Donated items can be dropped off on Mondays and Wednesdays – 9:00 a.m. until noon starting September 5th.  The Garage sale room does not accept Encyclopedias, furniture, or electronics such as TV's, computers, typewriters or printers.
Clothing and small household items are available free of charge for people in need, after a disaster and for people living in shelters and at nominal fee for all others.
Located through the ground level doors on the church's west side.
Volunteers are always welcome!