CKSW Radio Broadcast
firstuc_admin1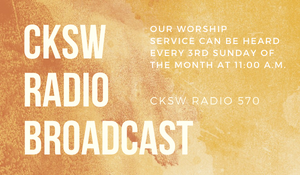 Radio Broadcasts of our worship services
can be heard on
the third Sunday of each month at 11:00 am on CKSW 570
(with the exception of July & August).
If you would like to sponsor one of our monthly broadcasts
please contact the church office.
If you wish to make a donation in memory of a loved one,
we would be happy to make that announcement at the beginning of the worship service that you are supporting.
The cost is $130 for one month.