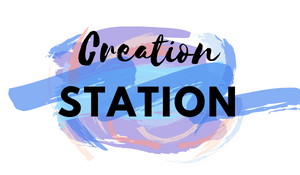 OUR CREATION STATION IS OPEN AGAIN!!
The Creation Station can be found behind our 3rd Ave Boutique sale room.
Every Wednesday from 1:00 pm – 5:00 pm
Everyone is Welcome and there is no Cost!
Come and nurture your soul as you explore your creativity:
We have got all the supplies you could possibly need.
Just sit down, relax and enjoy our space while creating your own special project.
Come and explore with paint, paper collage, mandalas, zentangle, paper tolle, etc.
We have items such as paints, brushes, stamps, shells, glue, cards, yarn, paper, glue, beads, stickers etc. etc.
Make your own cards, mandalas, bracelets, birds, posters etc.
It's good for the soul!
Birthdays – If you and your friends love to do creative activities, we would love to host your birthday party in our Creative Arts Space.
We can accommodate 6 children and 2 adults or 6-8 teens or adults. A suggested donation for use of the space is $10/person. **
Please contact Linda at ljstumpf1@gmail.com  for more information.
"Creativity is God's gift to us.
Using our creativity is our gift back to God.
When we open ourselves to exploring our creativity,
we open ourselves to God."
– Julia Cameron, The Artist's Way
Contact Linda Stumpf 306-629-3948 if you require further information.